Visit Our Community
---
Our History
Since the earliest days of our nation's history and even before Waterville has been a place where people have met to conduct business.
Long before Europeans arrived here, Native Americans from throughout the Maumee River Valley and Great Lakes Area held councils here at Roche Waterville an outcropping of rock in the Maumee River that remains to this day. (The shape of the rock dictated its name: in English, Roche de Boeuf means Buffalo Rock.)
In fact, it was at Roche de Boeuf that legendary war chiefs—among them Little Turtle, Blue Jacket, and Tarhe the Crane—planned battle strategies against the armies of a very young America in the late 1700s.
In 1795, Issac Richardson decided to open a tavern here. In 1828, John Pray built the Columbian House and opened a trading post, tavern, and inn within its walls. It later became a stagecoach stop.
In the nearly two centuries since, Waterville has been, in turn, a mill town, a port on the Wabash and Erie Canal, and a station on the old interurban railroad line that facilitated commerce throughout Northwest Ohio in the first third of the 20th century.
In the 1970s, our village became a destination for visitors enthralled by our history and architecture and charmed by the creations of a handful of artists who built studios and made their homes here.
Fast forward to the 21st century, and much has changed. Waterville is no longer a village, but a safe and friendly city. Even though things have changed one this has not: Waterville is still an ideal location for people who want to conduct business.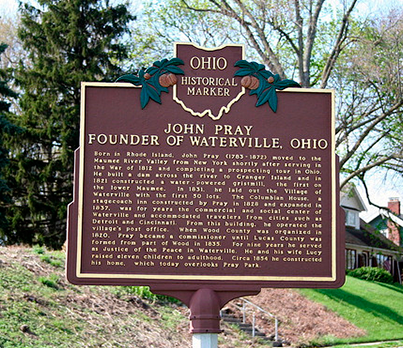 Early Days
Native American held councils at Roche de Boeuf
1795
Issac Richardson opened a tavern here.
1828
John Pray built the Columbian House.
1970
Waterville became a historical and architectural destination.
Today
Waterville is continuing to grow and is an ideal for business.
The Wateville Branch of the Toledo Public Library
---
The Waterville Branch of the Toledo Public Library is a hub of activity in Waterville. Located adjacent to Conrad Park, the Waterville Library features an outstanding and helpful staff, twelve public high-speed internet computers, a great dvd and video collection, story time for children, an extensive collection of fiction and nonfiction books, community book groups, meeting rooms and a great park just outside the door. The Library is a great resource for online information, inviting meeting space and is located in the heart of Waterville. Consider this resource next time you need a larger meeting place or a venue for presentations.
Hours of Operation
Monday & Tuesday: Noon – 8:30pm
Wednesday – Friday: 9am -5:30pm
Saturday & Sunday: Closed
Library phone: 419.878.3055
Website: www.toledolibrary.org